6 Step Onboarding Process for New Clients (Easy Guide)
How you onboard new clients sets the tone for your business relationships. Here's a six-step checklist to nail your onboarding process.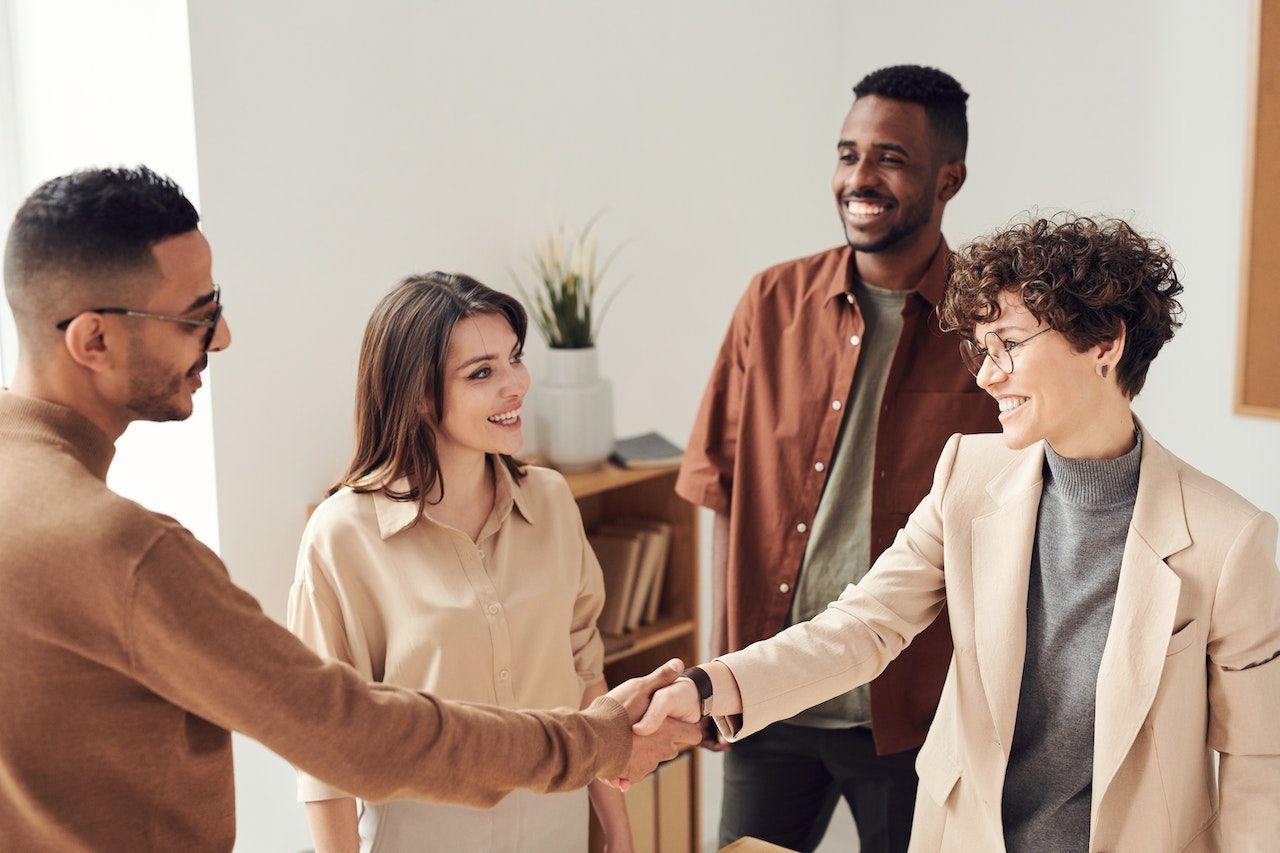 Did you know that it's 5x more expensive to acquire new clients than it is to retain existing ones? For this reason, making a great first impression at each client interaction is critical — starting with the client onboarding process.
In this guide, we'll cover onboarding best practices and break the process down into actionable steps.
What Is Client Onboarding?
Client onboarding is the process of welcoming new clients and getting them started with your product or service. A good onboarding experience sets your client relationship up for long-term success.
A thorough client onboarding process:
Introduces your business processes
Reveals your client needs and your proposed strategy
Set expectations for communication
How long your client onboarding process is depends on your business and the complexity of your services. As you onboard more clients, you'll begin to gauge better how long the process is and what works best.
Product Onboarding vs. Service Onboarding
Although onboarding is standard in both the professional services and Software-as-a-Service (SaaS) industries, onboarding clients is different from onboarding customers.
Services require high-touch, tailored, often much more personal interactions. On the other hand, SaaS customer onboarding is generally automated and begins immediately at the end of the sales process.
SaaS product onboarding relies heavily on user metrics. By analyzing those metrics and correlating them to user drop-off, product managers can understand the critical milestone(s) users must complete before they give up on a product. The onboarding system then focuses on guiding the customer through milestone completion.
Although the benefits of a good onboarding experience are the same for both services and products, the implementation differs widely. For our purposes, we'll focus more directly on onboarding for services.
Why Good Onboarding Matters
There are several benefits to a well-planned and executed onboarding process. While the onboarding process might take time to figure out at first, it'll pay dividends for future clients.
First Impressions Count
An excellent first impression sets the tone for starting your working relationship, so you and your client get off on the right foot. It builds rapport and sets the foundation for trust.
Reduce Churn
By understanding client needs thoroughly, you will be able to meet expectations of success better and reduce client churn. Thus, onboarding is a crucial arm of a complete client retention strategy.
Stop Scope Creep
If you do your due diligence, good onboarding sets clear expectations for both sides and fights future scope creep.
Happier Clients
Competent onboarding increases client engagement and, thereby, satisfaction. Thoughtful onboarding makes clients feel heard, seen, and valued. It also soothes any remaining client anxieties.
More Clients
Happy clients lead to referrals and recommendations, so your lead pipeline remains healthy. Referral and or word-of-mouth marketing are proven, effective ways to find some of your most highly qualified leads. A good client brings good quality potential clients more effectively than any other marketing channel.
Repeat, Repeat, Repeat
If you want to grow your service business, creating scalable processes is vital. Onboarding is no different. Keep this principle in mind as you form your client onboarding experience. Generating a repeatable onboarding template has two main benefits: signing more clients and streamlining employee training.
Scale and Sign More Clients
Put in a little more effort and organizational structure at the beginning of your onboarding checklist development. You can make the process easier to repeat, and obviously, the faster you can help onboard new clients, the more your business revenue will increase.
Easter to Train New Employees
When your onboarding assets are clearly defined in a structured program, handing off the processes and assets to other team members is swifter and more straightforward.
You will have to spend less time training new employees, which is critical because your time (as the business leader) will become the limiting factor as your business grows. As the business leader, your attention will be pulled in several different directions, so saving time is make-or-break for brands that want to expand. Setting up a scalable process now will prevent a headache later.
How to Onboard New Clients (In 6 Steps)
Here's a six-step process for onboarding new clients.
1. Contract
Now let's get into the specifics of client onboarding best practices, divided into digestible steps, beginning with the contract phase.
Proposal Drawing
After an initial consultation call to understand a client's essential needs, you will almost always begin the contract and negotiation phase by drawing up a proposal. In the proposal, you will outline your proposed strategy, deliverables, the scope of work, timeline, and pricing.
Contract Signing
After some negotiation and iteration on the proposal, it's time to send the contract and collect your new client's signature. This document will detail your terms of service, payment requirements, and sometimes highlight an itemized list of promised deliverables. Often, the contract will also specify the number of revisions the client is owed.
This contract step is critical because it protects you as the service provider. You absolutely cannot skip it.
Payment Collection
Payment collection terms vary greatly. Some vendors will not work until they collect an initial payment; some send the invoice after project completion, and others collect payment upon milestone completion. The nature of your work and how the project is structured will likely determine what you choose. But no matter which way you go, these details need to be agreed upon and set down within the signed contract before you begin work.
Many service providers bundle all three documents — business proposal, contract, and initial invoice — together upfront to speed up the process. While this approach is more expedient, depending on the nature of your work, some clients may find the package overwhelming or even presumptuous.
2. Recon
Now that the administrative minutiae are out of the way, you can begin the reconnaissance phase. After all, a well-planned project sets the foundation for success.
Client Information Gathering
Don't skimp on gathering your client data! The more thorough you are, the better prepared you will be, the more accurate your strategy detailing will be, and the easier it will be to understand your client's business, industry, and competitive landscape. This phase is your chance to take a deep dive into your client's world.
The best way to streamline client data gathering is through an onboarding questionnaire or client intake form.
Setting Goals and Deliverables
Now it's time to set the milestone and deliverable schedule. Depending on how large your organization is, you may choose to create the project plan calendar yourself or with the help of a project manager.
Collect Client Assets
The last step of the research phase is to collect your client's assets. These essential pieces could include a brand style guide, buyer persona information, their lead qualifications, logos, and design files — anything they have relevant to the scope of work.
3. Project Pre-Launch
The pre-project phase is optional, but it's a valuable period to align your internal team and resources so that you can present to your client as a united front.
Assign Internal Resources
The project manager will assign your internal resources, explicitly designating owners for each piece of work. They will also secure critical roles for the project, like finding a dedicated account manager and nominating the main point of contact.
Internal Meeting
Then it's time to have a quick team sync to make sure all team members are aligned, and there are no questions or concerns about project owners, workflows, or deadlines.
4. Client Kick-Off
The client kick-off meeting is where you will introduce your internal team to your client's team. The kick-off meeting is usually brief and involves the following core elements.
Introductions
It's best practice and just plain old-fashioned good manners to make a round of introductions so all stakeholders understand the others' roles. If you have a remote working team, mentioning time zones is an excellent detail, impacting communication and feedback time.
Set Cadence and Communication
A kick-off call should detail how often the team will meet and how frequently they will communicate via other channels.
Next Steps
End the kick-off call with a summary of the immediate actions each team member must complete. Ensure there are clear owners for each task. Also, don't forget to schedule the next meeting while you can coordinate everyone's calendars in real-time.
5. Welcome Packet
The last phase is also an optional step, and its deployment largely depends on your service offerings, but offering a welcome packet is a nice bonus. Doing so shows your client that you're an organized, engaged partner. It also gives something for your client to chew on as you work towards completing the first project milestone. But what does a welcome packet consist of?
Helpful Resources
Depending on your line of work, you can give clients educational resources they may find helpful. As a courtesy, it's also pleasant to provide a list of your team members' contact information and the best ways to reach them, so your client has this info in one convenient place.
Client Homework
Sometimes, to kick off a project, you need direct client input that wasn't given on the client intake form. In this case, you need to assign your client their, "homework." Be sure to communicate deadline boundaries. Warn them that project delays might occur if they do not complete their portion on time.
Personalization Is Key
Whenever possible, take the extra time to personalize each welcome packet to the client's specific project and interests. A little personalization goes a long way.
6. Check-Up
The last onboarding phase occurs after the work has been in progress for a substantial time, but it's necessary to close the loop on the client communication cycle.
Check Client Happiness
Checking in with your client to gauge their satisfaction is integral to the health of the relationship, especially if you are not meeting on a regular cadence. Hence, you address problems as they arise before they explode in your face.
Address Client Blockers
You will also need to offer gentle reminders when clients have not returned their portion of the work or feedback.
Solicit Feedback
And last but certainly not least, think of each client interaction as a chance to learn and improve. By collecting client feedback, you can continuously improve and innovate on both your work quality and processes.
Clients will notice your willingness to listen, and your company will gain a solid reputation for caring and listening to clients.
Simplify Your Client Data Intake
Portal is an all-in-one commerce platform that makes creating custom-branded client intake forms accessible. Portal's CRM understructure means data collection is organized and tied to a specific contact for easy access and retrieval. Portal also combines billing, eSignature collection, and knowledge base creation, so all your client information is in a single location.
Conclusion
These onboarding guidelines are not meant to be followed word-for-word. They're merely suggestions from which you are meant to take inspiration to create a well-crafted, thoughtful client onboarding experience that works for your business. With just a little planning effort, you can produce an onboarding process that delights your clients, sets your projects up for success, and improves client retention.